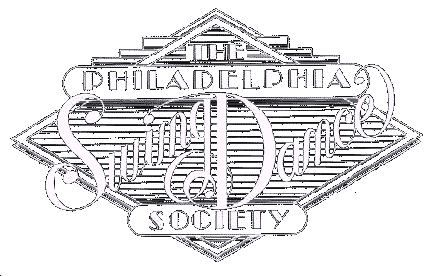 The Next Swing Dance
Saturday, February 10

(Almost) VALENTINE'S DAY SWING DANCE GALA !!
Featuring CITY RHYTHM ORCHESTRA
in their last PSDS appearance this season!

@ the COMMODORE BARRY CLUB !!
6815 Emlen St (Carpenter & Emlen)
W. Mt. Airy Section of Phila, 19119
(directions)


Dancing to live music 8:45 to midnight; preceded by
beginner lessons (free with admission) starting at
approximately 7:00 p.m.

Admission: $25 ( $20 w/ student or military i.d., if you
bring baked goodies to share, or as part of a group discount ) To Volunteer (& GET IN FREE!!), Email jimkitch@aol.com
All Ages and Skill Levels Welcome, No Partners necessary, Dress Casual;
Sorry! Neither alcohol nor smoking permitted.
.

For More Information: (11am to 11pm) call: (610) 676-0123.
Email List:To be on the PSDS email list ( send us your email address. )

To ask about volunteering, email jimkitch@aol.com

For other questions, E-mail PSDS.
Hope to see you at the dance!