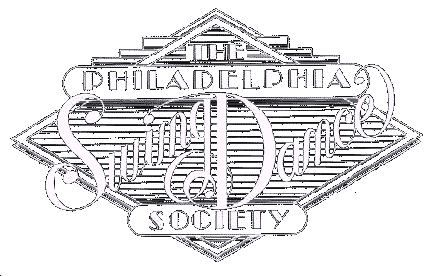 Swing Dance, Saturday, April 18, 2015
Note: this is a 3rd Saturday,
not the usual 2nd or 4th
featuring live music by
Walt Wagner Big Swing Band
at
Felinton Hall (directions)
715 Paxon Hollow Road, Broomall, PA 19008

Dancing from 9 p.m. to midnight
If you've never danced a step of jitterbug or lindy before, there are BEGINNER LESSONS (at 7:00 p.m.) before the dance at no add'l charge

All ages welcome. No partners necessary.
---
To Volunteer:
To Volunteer to assist at the event (and GET IN FREE!!), email Lesleyjmitchell@yahoo.com or call (11am - 11pm) (215) 629-2344 at least one week before the dance.
Coming Up:

April 18
(3rd Saturday)
WALT WAGNER BIG SWING BAND
Felinton Hall [special location!]
May 9
CHELSEA REED + THE FAIR WEATHER FIVE
Commodore Barry Club




Summer Saturdays -- DJed dances at Widener Hall in Chestnut Hill




| | | |
| --- | --- | --- |
| June 20 (A 3rd Saturday!!) | July 11 | July 25 |
| August 8 | September 26 | + perhaps more |
All Ages and Skill Levels Welcome, No Partners necessary, Dress Casual;
.

All admission prices are $3 off ($5 off special events) with current student I.D. or
substantial baked goods (that's what the slashes ("/") in the prices are about, e.g."$15/$12", or "$20/$15", or whatever the price is)
For More Information: (11am to 11pm) call: (215) 629-2344 or (610) 676-0123 or visit the frequently asked questions page.
...Sorry! Neither alcohol nor smoking permitted.

. Email List: To be on the PSDS email list ( send us your email address. )

For questions or whatever, E-mail PSDS.
Hope to see you at the dance!